I put a second load in my DH kiln. A mix of catalpa, elm, and Monterey cypress. Winter '09 was definitely the year of elm/catalpa! The dehumidifier died though, after four faithful years of hard service. I replaced it with a new one and things are dehumidifying away!
The Glider finally came back from the powder coating shop this week. It is very green! When I selected the colour at the shop, I swear it was a lot darker. Ah well, it's done now.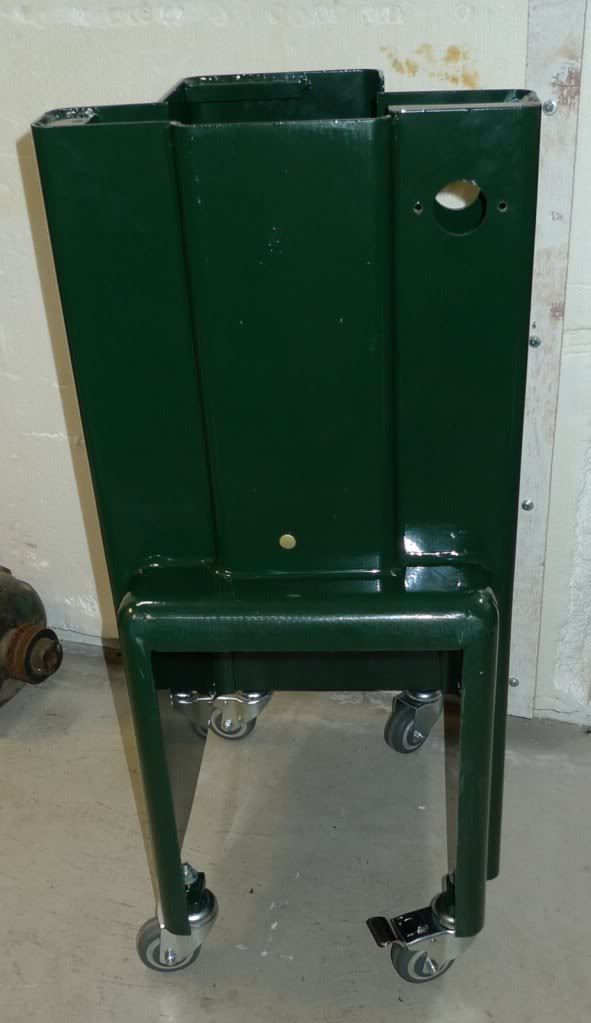 Infeed Table of Jointer Makes a Fine Assembly Table!
I've started the reassembly, only to quickly discover that I did not document well the disassembly, so it's a bit of a challenge. Also, a couple pieces have gone astray, so I will need to replace them somehow.
I am super happy with the media blasting, it took all the crap off and got right to the bare metal. It left an attractive texture on the bronze/aluminum pieces. Chrome did not fare so well but is still salvageable.
The jury is still out on the powder coating though. Clearly it saved me a ton of time, and I am happy with the finish. The shop did not do a good enough job of covering up threads, machined surfaces, etc. which means I will be spending some time removing paint from these areas. The areas they did mask, when they removed the mask, it tended to rip the coating and leave a very rough edge. I had to buy a pint of matched paint at a local paint shop for touching up these areas.
Lastly, it appears that log cutting season is here already, a full 5 weeks ahead of last season's start. I'll be down there tomorrow, hope to cut some beech and possibly alder. There is some oak, plenty of maple, and some PO Cedar down there ready to cut up over the next while. I will have to learn to be more picky this year, I really only have room for 20 new boards right now!